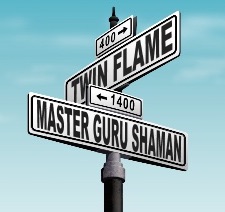 Shamanism is at the same time the most difficult and easiest art to teach. To be honest shamanism is impossible to teach because there is absolutely nothing to learn. It is rather about unlearning, letting go of what you have learned and, most of all, letting go of teachers, masters, spiritual leaders, including shamans themselves.
"If you meet the Buddha on the road, kill him!" 仏に逢えば仏を殺せ
This is a Zen koan that you have probably read many times. It is attributed to Zen Master Linji (died in 866 CE) and was used as the title of a best-seller book by Sheldon B. Kopp published in 1975.
This koan is also used by Saiyūki, a manga by Kazuya Minekura:
"Hold nothing! If you meet Buddha, kill Buddha. If you meet the patriarchs, kill the patriarchs. Free of all, bound by nothing, you live your life simply as it is."
This is a Zen koan, so there is no point in explaining it, otherwise is not a koan anymore.
A kōan is a paradoxical dialogue, question, statement, or riddle devoid of solution, used in Zen practice to test the student's progress and create a gap in their logical reasoning aimed at provoking enlightenment.
What follows is not an explanation of the koan, but rather a forlorn and unexplainable explanation.

Killing the Buddha means going beyond the illusion of the teacher, the shaman, the guru, the master, but also of the twin flame, the faithful partner, the devoted parent. It means to retrieve everything we have projected on others and take full responsibility for what we perceive within and without ourselves.
Everything and everyone we perceive outside is the projection of something that exists within or in parts of ourselves that we have lost or denied. The only possibility for those parts to be recognized is through what exists in the outer world.
Killing the Buddha on the road means first recognizing it, identifying it as a Buddha, that is, an external projection of what exists within us, a sign indicating the road, but which is not the road, then it is about leaving it and continuing the journey.
Perhaps it has happened to you various times. You drive or walk to a far away place and then you get lost. Along the way you meet many signs pointing to different places, yet no mention about the place you want to go. Then you finally see a road sign with the name of the place you want to reach. What a relief! But this is only a sign, and there are still many miles to go. Hence you do not stop there, you continue your journey.
If you want to reach that place you have to go there. The point is that from a shamanic perspective in this world you will never find the place you want to go because this is just a world of signs. Signs are useful to the extent that you are able to use them to reach your destination, they are not your destination.
Teachers, masters, shamans, gurus and partners, lovers, parents are provisional figures whose purpose is to indicate the way. They do not have the power to give you what you want or lead you to where you want. What happens, however, is that we regularly get attached to these figures. We get stuck in front of signs, without moving anymore, without changing anything in our lives. And then at some point our initial joy, love and excitement for them turns into hate, anger, disappointment simply because we do not get what we want. We realize that the sign was just a sign, and feel deceived.
But the sign has always been a sign and this was clear from the beginning.
So if you meet a sign, be aware of it, and grateful for it has the quality to show you the way. Then continue your journey, don't stop there. Yes, of course, if you are tired you can rest there for a while. Yet do not settle there, go ahead, and remember that you are in transit. As you continue the journey you may find other signs, indicating the same direction. Continue to move on until you reach the destination, which perhaps may end up being the place you have always been.