11/4
Aquarius/Cancer
Binary 124
Uriah Quiu
12½-15° Aquarius
In the Astroshamanic Binary System,  Sun in Aquarius (11) and Moon in Cancer (4) constitute Binary 11.4, or Binary number 124.
11.4 (Sun in Aquarius and Moon in Cancer) is a blend of fixed Air and cardinal Water mixing Aquarius's inventiveness, rebelliousness and friendship with Cancer's sensitivity and tenacity. Those who resonate with this combination are humanitarian, compassionate, idealistic and romantic folks, with an authentic warm and friendly spirit, considerable charm and beauty.
Aquarius and Cancer are in quincunx aspect, an angle of 150°, which is five-twelfths of the 360°. This aspect tends to cause slides into parallel universes affecting what happens in your everyday reality. The influence can be moderate, yet in some circumstances rather abrupt. Depending on the multidimensional conscious openness of the elements involved it can be experienced in harmonious or disharmonious ways.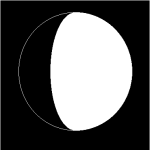 During this binary the Moon is still Gibbous Moon, though it is gradually approaching the Full Moon. If the first days of the Gibbous Moon have provided harmony, ease and effective work, this is a time of anticipation for the upcoming challenges of the Full Moon. You may start to identify some areas drawing attention and requiring action. This could be either the best time to undertake action, with the desired outcome climaxing with the Full Moon, or to acquire the necessary resources so as to act on the Full Moon itself.
Astroshamanic Seal: two hands opening a gate in the third eye, allowing access within. "This is the place where you can see from within. Come!" The hands gently push you inside and then they hold and protect you, providing safety and focus.
Astroshamanic Binary Guidance:
"Everything is within and what you see outside is its mere reflexion. Take care of what is within. This is the way. Everything else is just a strategy to support this way. When you confuse the strategy with the way, then the strategy does not work anymore. The strategy is part of the game."

"Continue to acknowledge and nourish your vision, regardless of whether it is acknowledged or supported by others. What matters is that you are aware of your vision and are determined to give it birth. You are not here to give birth or manifest in general, or in accordance with what others have told you to give birth or manifest. Your task is to allow the emergence of your vision and unique guidance."
SAINTS
1 February: Saint Brigid, virgin – Feast (Ireland)
2 February: Presentation of the Lord – Feast
3 February: Saint Blase, bishop and martyr, or Saint Ansgar, bishop – Optional Memorial
Simone Weil, born on 3 February 1909, Sun Aquarius, Moon Cancer, Ascendant Sagittarius, French philosopher, Christian mystic and social activist (d. 1943), (11.4.9).
"Do not allow yourself to be imprisoned by any affection. Keep your solitude. The day, if it ever comes, when you are given true affection, there will be no opposition between interior solitude and friendship, quite the reverse. It is even by this infallible sign that you will recognize it."
"Liberty, taking the word in its concrete sense, consists in the ability to choose."
"A beautiful woman looking at her image in the mirror may very well believe the image is herself. An ugly woman knows it is not."
"Attachment is the great fabricator of illusions; reality can be attained only by someone who is detached"
"There is something else which has the power to awaken us to the truth. It is the works of writers of genius. They give us, in the guise of fiction, something equivalent to the actual density of the real, that density which life offers us every day but which we are unable to grasp because we are amusing ourselves with lies."
"All the natural movements of the soul are controlled by laws analogous to those of physical gravity. Grace is the only exception. Grace fills empty spaces, but it can only enter where there is a void to receive it, and it is grace itself which makes this void. The imagination is continually at work filling up all the fissures through which grace might pass."
"Do not allow yourself to be imprisoned by any affection. Keep your solitude. The day, if it ever comes, when you are given true affection, there will be no opposition between interior solitude and friendship, quite the reverse. It is even by this infallible sign that you will recognize it."
"To claim that theft or adultery or lying are "evil" simply reflects our degraded idea of good-—that it has something to do with respect for property, respectability, and sincerity."
ARTS
Guidette Carbonell (11.4.4, Neptune cjn Asc and Moon) born January 23, 1910 in Meudon near Paris, French artist and one of France's leading ceramicists.
Carlo Carrà (11.4.4, Uranus cjn IC) February 11, 1881—April 13, 1966, Italian painter, a leading figure of the Futurist movement that flourished in Italy during the beginning of the 20th century.
John Collier OBE RP ROI (11.4) 27 January 1850 – 11 April 1934, English Pre-Raphaelite artist and author, one of the most prominent portrait painters of his generation, known for the painting of Lady Godiva, Tannhäuser in the Venusberg and Clytemnestra. Both his marriages were to daughters of Thomas Henry Huxley. In The religion of an artist (1926) he emphasizes ethics apart from religion. "I am looking forward to a time when ethics will have taken the place of religion… [The benefits of religion] can be attained by other means which are less conducive to strife and which put less strain on upon the reasoning faculties." On secular morality: "My standard is frankly utilitarian. As far as morality is intuitive, I think it may be reduced to an inherent impulse of kindliness towards our fellow citizens." On the idea of God: "People may claim without much exaggeration that the belief in God is universal. They omit to add that superstition, often of the most degraded kind, is just as universal." And "An omnipotent Deity who sentences even the vilest of his creatures to eternal torture is infinitely more cruel than the cruellest man."
Christian Dior (11.4.8) January 21, 1905 – October 23, 1957, French fashion designer, born in Granville, Manche, Normandy, France.
Jean Effel, (11.4.4) French painter and journalist (1908-1982).
Holly Johnson (11.4.5, Uranus cjn Asc) artist, writer and musician (born William Johnson on February 9, 1960 in Liverpool, England).
CINEMA & MEDIA
Richard Anconina (11.4.1) French actor.
Mischa Barton (born 24 January 1986) English-American fashion model, film, television, and stage actress.
Didier Bourdon (11.4.1, Saturn cjn MC) born 23 January 1959, French Algerian-born actor, screenwriter and film director.
Mario Camerini (11.4.7) Rome, 6 February 1895 – Gardone Riviera, 4 February 1981, Italian film director.
John Carradine, (11.4) American actor (February 5, 1906 – November 27, 1988). He often played eccentric, mad or diabolical characters.
André Cayatte (11.4.5, Neptune cjn Moon) February 3, 1909, Carcassonne – February 6, 1989, Paris) French New Wave filmmaker and lawyer, known for his films centering on themes of crime, justice, and moral responsibility.
Some of Cayatte's earlier films that covered these themes include Justice Est Faite (Justice is Done, 1950), Nous sommes tous des assassins (We Are All Murderers, 1951), and Tomorrow Is My Turn (1962).
Farrah Fawcett, (11.4.4) American actress (2 February 1947-d. 2009)
Bridget Fonda (11.4.9) born January 27, 1964, American actress.
Miloš Forman (11.4) Sun in Aquarius, Moon in Cancer, born February 18, 1932, in Čáslav, Czechoslovakia, director, screenwriter, professor. One Flew Over the Cuckoo's Nest
Clark Gable (11.4.10) American actor, February 1, 1901 – November 16, 1960, Academy Award-winning American film actor. His most famous role was in the 1939 film Gone with the Wind.
Eva Gabor (11.4.4) February 11, 1919 – July 4, 1995, Hungary-born Jewish-American actress.
Alfred Hawthorn Hill (11.4.11) 21 January 1924 – 19 April 1992, better known as Benny Hill, prolific English comic, actor and singer, best known for his television programme, The Benny Hill Show.
John Hurt CBE (11.4.5, Saturn cjn MC) born January 22, 1940, Academy Award-nominated and BAFTA Award-winning British actor.
Derek Jarman (11.4.10) January 31, 1942 – February 19, 1994, English film director, stage designer, artist, and writer.
Laure Marsac (born February 18, 1970, Paris) French actress, scriptwriter and movie director.
Maurizio Micheli (11.4.6, Uranus cjn MC) born on February 3, 1947 in Livorno, Italian comedian and actor.
Nicholas Nolte (11.4.2) born February 8, 1941, Oscar-nominated American actor, model, and producer.
Ingrid Thulin, (11.4) Swedish actress (27 January 1926-d. 2004)
Robert Wagner (11.4.9) American actor, 1930.
Kerry Washington (born January 31, 1977) American actress.
LITERATURE
Robert Amadou (11.4.9) February 16, 1924 in Bois-Colombres – March 14, 2006 in Paris, French writer and a specialist of parapsychology.
Paul Auster, (11.4) American novelist Moon Palace (1989), The Music of Chance (1990), The Book of Illusions (2002) 3 February 1947
Gianni Biondillo, born on February 3, 1966 in Milan, talian architect and writer.
Lord Byron: born on 22 January 1788 with Sun in Aquarius, Moon (conjunct Uranus) and Ascendant in Cancer, (11.4.4) is the most controversial, eccentric and flamboyant Romantic poet and satirist. Byron was famous for his non-ordinary love affairs and for devising the configuration of the "Byronic hero", inspired by an intimate, deep rooted and poignant past, suffering exile, exhibiting great passion (Cancer) and having a distaste for conventional society, rebelling, expressing lack of respect for rank and privileges, having genius (Aquarius). He was born with a club-foot, yet with a most magnetic, beautiful, shape-shifting and out of the ordinary body. He was only 5 feet 8 1/2 inches tall and his widely varying weight ranged from 137 to 202 pounds. He spent his early childhood years in poor surroundings in Aberdeen, before inheriting the title and property of his great-uncle, which allowed him to move to Harrow and Cambridge. "She Walks in Beauty" is a famous poem Byron wrote in 1814 in 1814 by Lord Byron. It describes a woman of much beauty and elegance, told from the view point of a third person. Byron had a great fondness for animals. He kept a bear while he was a student at Trinity College in Cambridge, as a way of rebelling against Trinity rules forbidding pet dogs, and also suggested that the bear apply for a college fellowship. At other times in his life, Byron also kept foxes, monkeys, parrots, cats, eagles, crows, falcons, peacocks, guinea hens, cranes, badgers, geese, and herons. In 1809 he took his seat in the House of Lords reached poetic success from 1812 when he published Childe Harold's Pilgrimage and later The Corsair. Byron regarded sex as artistic performance and craved for alternative sexual enterprises, such as triangles and any kind of unconventional rapport. In this respect he was all-inclusive and addressed boys, siblings, and women of all classes. In the end he was forced to live abroad to escape the social effects of his scandalous life. He settled in Switzerland  where he became friends with the poet Shelley, and his future wife. He then moved to Venice, where it was rumoured that he had more than 200 mistresses. He also operated as the cavaliere servente (the acknowledged lover of a married-woman, attending to her every need and desires) of Teresa Guiccioli, the young wife of an elderly Italian count.
There's not a joy the world can give that it takes away / When the glow of early thought declines in feeling's dull decay, / 'Tis not on youth's smooth cheek the blush alone, which fades so fast, / But the tender bloom of heart is gone, ere youth itself be past.
She walks in beauty, like the night
Of cloudless climes and starry skies;
And all that's best of dark and bright
Meet in her aspect and her eyes:
Thus mellowed to that tender light
Which heaven to gaudy day denies.
One shade the more, one ray the less,
Had half impaired the nameless grace
Which waves in every raven tress,
Or softly lightens o'er her face;
Where thoughts serenely sweet express,
How pure, how dear their dwelling-place.
And on that cheek, and o'er that brow,
So soft, so calm, yet eloquent,
The smiles that win, the tints that glow,
But tell of days in goodness spent,
A mind at peace with all below,
A heart whose love is innocent!
A celebrity is one who is known to many persons he is glad he doesn't know.
All who joy would win must share it. Happiness was born a Twin.
And yet a little tumult, now and then, is an agreeable quickener of sensation; such as a revolution, a battle, or an adventure of any lively description.
As long as I retain my feeling and my passion for Nature, I can partly soften or subdue my other passions and resist or endure those of others.
Be thou the rainbow in the storms of life. The evening beam that smiles the clouds away, and tints tomorrow Between two worlds life hovers like a star, twixt night and morn, upon the horizon's verge.
Every day confirms my opinion on the superiority of a vicious life – and if Virtue is not its own reward I don't know any other stipend annexed to it.
I have great hopes that we shall love each other all our lives as much as if we had never married at all.
Lovers may be – and indeed generally are – enemies, but they never can be friends, because there must always be a spice of jealousy and a something of Self in all their speculations.
Man's love is of man's life a part; it is a woman's whole existence. In her first passion, a woman loves her lover, in all the others all she loves is love.
Posterity will never survey a nobler grave than this: here lie the bones of Castlereagh: stop, traveler, and piss.
There is something pagan in me that I cannot shake off. In short, I deny nothing, but doubt everything. 
To have joy one must share it. Happiness was born a twin.
To withdraw myself from myself has ever been my sole, my entire, my sincere motive in scribbling at all.
What a strange thing is the propagation of life! A bubble of seed which may be spilt in a whore's lap, or in the orgasm of a voluptuous dream, might (for aught we know) have formed a Caesar or a Bonaparte – there is nothing remarkable recorded of their sires, that I know of.
What an antithetical mind! – tenderness, roughness – delicacy, coarseness – sentiment, sensuality – soaring and groveling, dirt and deity – all mixed up in that one compound of inspired clay!
Hermine de Clermont-Tonnerre, born February 3, 1966 in Boulogne-Billancourt (Hauts-de-Seine), French writer, actress and member of the Jet Set.
Philip José Farmer, Sun Aquarius, Moon Cancer, American writer (26 January 1918-d. 2009), science-fiction. His work often contains sexual freedom themes, such as Stranger in a Strange Land (1961), Night of Light (1966), Image of the Beast and the sequel Blown and religious elements. His main series are Riverworld and World of Tiers, set within a number of artificially constructed parallel universes.
The real superhuman, man or woman, is the person who's rid himself of all prejudices, neuroses, and psychoses, who realizes his full potential as a human being, who acts naturally on the basis of gentleness, compassion, and love, who thinks for himself and refuses to follow the herd.
Tristan Derème (11.4.8) February 13, 1889, Marmande, France – October 24, 1941, born Philippe Huc, French poet and writer.
Louis-René des Forêts (11.4.4, Pluto cjn Asc) born in Paris January 25, 1919 and died December 30, 2000, French author.
Marija Gimbutas (11.4) Sun in Aquarius, Moon in Cancer, (Vilnius, January 23, 1921 – February 2, 1994), was a Lithuanian-American archaeologist known for her research into the Neolithic and Bronze Age cultures. Her conclusions that Neolithic sites across Europe pointed to long-term stable egalitarian societies with women at the center materially and spiritually became a keystone of the matriarchal studies movement and the Goddess movement.
Antonio Gramsci (11.4.1) Italian philosopher, and political theorist (22 January 1891-d. 1937) a founding member and onetime leader of the Communist Party of Italy.
G. Stanley Hall, (11.4) American psychologist (1 February 1844-d. 1924).
Auguste Le Breton (February 18, 1913, Lesneven, France – May 31, 1999, Saint-Germain-en-Laye, France, French novelist of detective fictions.
Norman Mailer (11.4.12) American writer and journalist (31 January 1923-d. 2007).
Jean Reboul (11.4.10, Neptune cjn MC) born January 23, 1796 in Nîmes and died May 28, 1864, French poet.
Jacques Réda (Lunéville, January 24, 1929) French poet, jazz critic, and flâneur.
Romain Rolland (11.4.8) January 29, 1866 – December 30, 1944, French writer and dramatist, best known as the author of the novel series Jean-Christophe (1904-12).
John Ruskin (11.4.11) born 8 February 1819, Sun and Ascendant in Aquarius, and Moon in Aries, English author (1819-1900) born in London. One of the greatest figures of the Victorian age. Artist, poet, author, critic and social revolutionary, he was especially famous for his work as art and social critic. He was particularly dear to Mahatma Gandhi, who described him as the single greatest influence in his life, Marcel Proust and Leo Tolstoy. Ruskin wrote over 250 works, which connected art history to science, literary criticism, environmental conditions, mythologyand other topics. His relationships were out of the ordinary and far beyond HAC understanding. Ruskin married Effie Gray, a childlike bride with whom he decided not to have any intercourse in order to preserve her virginity. A triangle developed involving the artist John Millais, whom Effie, after her marriage with Ruskin was annuled on grounds of non-consummation, later married.
Do not think of your faults, still less of other's faults; look for what is good and strong, and try to imitate it. Your faults will drop off, like dead leaves, when their time comes.
The greatest thing a human soul ever does in this world is to see something and tell what it saw in a plain way. Hundreds of people can talk for one who can think, but thousands can think for one who can see. To see clearly is poetry, prophecy and religion, all in one.
It is far more difficult to be simple than to be complicated; far more difficult to sacrifice skill and easy execution in the proper place, than to expand both indiscriminately.
Men cannot not live by exchanging articles, but producing them. They live by work not trade.
The highest reward for a person's toil is not what they get for it, but what they become by it.
Christian Wolff (11.4) German philosopher (24 January 1679-d. 1754)
MUSIC
Anna Abreu (born on February 7, 1990 in Vantaa, Finland) Finnish-Portuguese singer who rose to fame as the runner-up of the third series of the Finnish singing talent show Idols in 2007.
Anicée Alvina, b. on January 28, 1953, Boulogne-Billancourt, France to a French mother and an Iranian father – d. November 10, 2006, Boncourt, Eure et Loir, France, French singer and actress.
Dario Campeotto (born 1 February 1939) Danish singer, actor, and entertainer.
Nick Carter (11.4.6) born January 28, 1980, American actor, musician and pop singer, member of the music group the Backstreet Boys. In 2000, he was included in People Magazine's list of the 50 Most Beautiful People.
David Davies (11.4.8) born 3 February 1947, in Fortis Green, London, English rock musician (singer and lead guitarist), most well known for his membership with the English rock band The Kinks.
Leslie Feist (born 13 February 1976), known professionally as Feist, Canadian singer-songwriter, performing both as a solo artist and as a member of the indie rock group Broken Social Scene.
Jorge Ferreira (11.4.9, Uranus cjn Moon) born in February 5, 1955, Portuguese musician.
Mia Frye, born February 12, 1965 in New York, American choreographer and singer.
Melody Gardot (born February 2, 1985 in New Jersey) American jazz singer, writer and musician in Philadelphia, Pennsylvania.
Gianluca Ginoble, member of Il Volo, an Italian pop trio, consisting of singers: the baritone, Ginoble, and two tenors, Piero Barone and Ignazio Boschetto.
André Hodeir, French violinist, composer, arranger and musicologist, born January 22, 1921, in Paris.
Jerome Kern (11.4.7, Uranus cjn Asc) January 27, 1885 – November 11, 1945, American composer of popular music. He wrote around 700 songs, including such classics as Ol' Man River, A Fine Romance, Smoke Gets in Your Eyes, All the Things You Are and The Way You Look Tonight.
Maxime Le Forestier (11.4.6, Uranus cjn MC) born February 10, 1949, French singer, born in Paris. His father was English, and his mother had long lived in England.
Georgette Lemaire (11.4.3) born February 15, 1943 in Paris, French singer.
Leslie (11.4.8, Pluto cjn Asc) born Leslie Bourgouin, French R&B singer of French, Vietnamese and Polynesian decent, born on February 4, 1985 in Le Mans.
Diego Peano (Pesaro, 13 February 1946) Italian singer.
Gérard Rinaldi (11.4.12) born February 17, 1943 in Paris, died on March 2, 2012 in Briis-sous-Forges (Essonne) French actor and singer, leader of French band Les Charlots.
Smokey Robinson (born February 19, 1940) American R&B and soul singer-songwriter, record producer, and former record executive.
Vasco Rossi, (11.4) Italian singer, born 7 February 1952, he has published 26 albums and written over 250 songs, as well as lyrics for other artists.
Melanie Safka (11.4.11) born February 3, 1947 in Astoria, New York City, American singer-songwriter, best known for her hits, "Brand New Key", "Lay Down (Candles in the Rain)" and "Look What They've Done To My Song, Ma".
Shakira (11.4.1) Sun Aquarius, Moon Cancer, Ascendant Aries, Colombian singer, born 2 February 1977.
Wallen (real name: Nawell Azzouz) French RnB singer, born January 23rd 1978 in Saint-Denis France to Moroccan parents.
Lucinda Williams (born January 26, 1953) American rock, folk, and country music singer and songwriter.
POLITICS
Franklin Delano Roosevelt (11.4.6, Uranus cjn Asc) January 30, 1882 – April 12, 1945, the 32nd President of the United States.
Boris Yeltsin (11.4.4, Pluto cjn Asc) February 1, 1931 – April 23, 2007, the first president of the Russian Federation, serving from 1991 to 1999.
Khalifa bin Zayed bin Sultan Al Nahyan, born 25 January 1948; referred to as Sheikh Khalifa) is the President of the United Arab Emirates (UAE) and emir of Abu Dhabi.
SPIRITUALITY
Fritjof Capra: born on 1 February 1939, Sun Aquarius, Moon in Cancer, he is the acclaimed author of The Tao of Physics, The Turning Point and The Web of Life. According to Capra the current global culture is shifting from the modern aristotelic-cartesian paradigm to a postmodern, holistic, integrative paradigm. His assumption is that earlier science incorrectly attempted to force their subjects into mechanistic and quantifiable models, as opposed to the holistic awareness of today's scientific revolutionaries. The Gaia hypothesis, in which the Earth is regarded as a single self-regulating biological entity, plays a large role in Capra's vision. (11.4)
In ordinary life, we are not aware of the unity of all things, but divide the world into separate objects and events. This division is useful and necessary to cope with our everyday environment, but it is not a fundamental feature of reality. It is an abstraction devised by our discriminating and categorising intellect. To believe that our abstract concepts of separate 'things' and 'events' are realities of nature is an illusion.
The systems view looks at the world in terms of relationships and integration. Systems are integrated wholes whose properties cannot be reduced to those of smaller units. Instead of concentrating on basic building blocks or basic substances, the systems approach emphasizes basic principles of organization. Every organism- from the smallest bacterium through the wide range or plants and animals to humans is an integrated whole and thus a living system. …But systems are not confined to individual organisms and their parts. The same aspects of wholeness are exhibited by social systems- such as an anthill, a beehive, or a human family- and by ecosystems that consist of a variety of organisms and inanimate matter in mutual interaction. What is preserved in a wilderness area is not individual trees or organisms but a complex web of relationships between them. All these natural systems are wholes whose specfic structures arise from the interactions and interdependence of their parts. The activity of systems involves a process known as transaction- the simultaneous and mutually interdependent interaction between multiple components.
Quantum theory thus reveals a basic oneness of the universe. It shows that we cannot decompose the world into independently existing smallest units. As we penetrate into matter, nature does not show us any isolated "building blocks," but rather appears as a complicated web of relations between the various parts of the whole. These relations always include the observer in an essential way. The human observer constitute the final link in the chain of observational processes, and the properties of any atomic object can be understood only in terms of the object's interaction with the observer.
Pema Tönyö Nyinje (11.4.6) current and 12th Tai Situpa, born in a farming family in 1954 in the Palyul district of Dérgé, in the East of Tibet. Tai Situpa is one of the lineages of tulkus, reincarnated lamas, in the Kagyu school, an emanation of the bodhisattva Maitreya, who will become the next Buddha, and who has been incarnated as numerous Indian and Tibetan yogins since the time of the historical Buddha. The holder of this title is also called Situ Rinpoche and Tai Situ.
Handorian References:
HSS 11-4
State of Yukal
Nation of Lexelind
This nation, also known as Yukaland, is situated in the central area of the State of Yukal. The capital is Lexelind.
Provisional Territorial Units:
REGION D11-4: SWEDEN
Aquarius/Cancer
Pahai Lexednil – Nation of Lexelind – Dnilexel fo Noitan
Binary 124 – Uriah Quiu
12½-15° Aquarius; Aquarius/Cancer; Gemini/Mercury.
Skandie Pradesia:Malmoe Samaya. YUKAL, Lexelind
D11-4: SWEDEN, Östergötland: Norrköping (1); Motala; Ödeshög; Vadstena (2); Åtvidaberg; Kinda; Linköping; Ydre (3). Jönköping: Jönköping (4). Västra Götaland: Göteborg; Ale; Kungälv (5); Åmål; Bengtsfors; Dals-Ed; Mellerud; Munkedal; Strömstad; Tanum (6); Bollebygd; Mark; Svenljunga; Tranemo; Ulricehamn (7); Götene; Gullspång; Lidköping; Skara; Tibro (8). Södermanland: Nyköping (9). Värmland: Karlstad (10); Eda; Hagfors; Sunne; Torsby (11). Örebro: Örebro (12).
12½-15°Aquarius; Aquarius/Cancer; Gemini/Mercury.
Skandie Pradesia: Malmoe Samaya.YUKAL, Lexelind.
11-4-1 SWEDEN, Östergötland County, Norrköping
11-4-2 SWEDEN, Östergötland County, Motala; Ödeshög; Vadstena
11-4-3 SWEDEN, Östergötland County, Åtvidaberg; Kinda; Linköping; Ydre
11-4-4 SWEDEN, Jönköping County, Jönköping
11-4-5 SWEDEN, Västra Götaland County, Göteborg; Ale; Kungälv; SCP
11-4-6 SWEDEN, Västra Götaland County, Åmål; Bengtsfors; Dals-Ed; Mellerud; Munkedal; Strömstad; Tanum
11-4-7 SWEDEN, Västra Götaland County, Bollebygd; Mark; Svenljunga; Tranemo; Ulricehamn
11-4-8 SWEDEN, Västra Götaland County, Götene; Gullspång; Lidköping; Skara; Tibro
11-4-9 SWEDEN, Södermanland County, Nyköping
11-4-10 SWEDEN, Värmland County, Karlstad
11-4-11 SWEDEN, Värmland County, Eda; Hagfors; Sunne; Torsby
11-4-12 SWEDEN, Örebro County, Örebro
yBinary Programme 1 – Pahekarubhe 1: 11.4 –
"Whatever you see is within and what you see without is its reflection. The way is within and what is outside is merely a strategy to go within. When the strategy is regarded as the way, there is no way. The strategy is part of the game."
"Continua con il tuo lavoro!" questo è ciò che mi viene costantemente ripetuto ogni qual volta domando cosa fare. Mi rendo conto quanto questo consiglio sia valido. Si tratta di proseguire il viaggio e rispettare le promesse. "Le 144 combinazioni e i 12 alberi di Parco Talon sono importanti perché costituiscono un cerchio dell'anno. Questo è il contributo più grande che stai dando. Non è importante se questo lavoro viene riconosciuto o meno. Ciò che conta è che tu sappia quanto è importante. E' il tuo contributo e ti rende un esecutore fedele di promesse. Prova la tua integrità e determinazione. Ci sono tanti libri come vedi vicino al Grande Albero. Non sono così importanti. Quello che conta veramente è la tua aderenza alle promesse. Sii fedele". In Quiumakai mi trovo nella consueta area del Settore 11 e mi sento a mio totale agio. Non appena apro il mio terzo occhio posso vedere gli abitanti e gli esseri che dimorano oltre. Mi stanno tutti supportando. E' una popolazione immensa. E' una galassia di esseri. Sono le cellule e le componenti energetiche di questo corpo. Quelle che considerai molti anni fa allorché stavo per andarmene via. Esse si ricordano di quel momento e della mia scelta. Questa popolazione dentro, io proietto fuori. Grazie, per essere lì. "Ogni cosa è dentro e io la vedo fuori come riflesso. La via è quella di prendersi cura del dentro. Questa è la via. Tutto il resto sono solo strategie per agevolare questa via. Quando la strategia viene confusa per la via, finisce con essere da ostacolo. Questa fa parte del gioco. Estendi tale visione e invita ad andare dentro. Sei qui per questo." Dopo la pozione vedo delle mani immense che aprono un varco, quello del terzo occhio, e mi trascinano dentro. "Quello è il luogo in cui puoi vedere da dentro. Vieni". Le mani mi spingono e poi mi racchiudono per proteggermi. Mi accarezzano, stringono. Mi sento molto sicuro. A queste mani io pronuncio il mio Intento.