10/3
Sauter Mahe
Binary 111
Capricorn/Gemini
12½-15° Capricorn
10.3 (Sun in Capricorn and Moon in Gemini) is a blend of cardinal earth and mutable air mixing Capricorn's order, perseverance and responsibility with Gemini's flexibility, versatility, eloquence and cleverness. These may be very ambitious folks, especially in the realm of the intellect. They easily and quickly assimilate and integrate what they learn, employing it in practical terms and putting it to effective use in accordance with their intent. Their gifts encompass the domain of communication, including public speaking and writing, organisation, advertising, networking, which they carry on superbly blending a seriousness and humour.
Capricorn and Gemini are in quincunx aspect, an angle of 150°, which is five-twelfths of the 360°. This aspect tends to cause slides into parallel universes affecting what happens in your everyday reality. The influence can be moderate, yet in some circumstances rather abrupt. Depending on the multidimensional conscious openness of the elements involved it can be experienced in harmonious or disharmonious ways.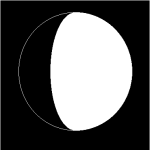 During this binary the Moon is still Gibbous Moon, though it is gradually approaching the Full Moon. If the first days of the Gibbous Moon have provided harmony, ease and effective work, this is a time of anticipation for the upcoming challenges of the Full Moon. You may start to identify some areas drawing attention and requiring action. This could be either the best time to undertake action, with the desired outcome climaxing with the Full Moon, or to acquire the necessary resources so as to act on the Full Moon itself.
Celebrities with 10.3:
ARTS
Barbara Hepworth, 10 January 1903, Wakefield – 20 May 1975, English sculptor.
CINEMA & MEDIA
Rowan Atkinson (born 6 January 1955) English comedian, actor and writer, famous for his title roles in the British television comedies Blackadder and Mr. Bean.
Jim Carrey (10.3.8, Neptune cjn Asc, Uranus cjn MC) born January 17, 1962, Canadian-American actor and comedian.
Valentina Cortese (10.3.4) born January 1, 1923 in Milan, Italian actress.
Danny Kaye (10.3.2) January 18, 1913 – March 3, 1987, American actor, singer and comedian.
Sarah Miles (10.3.6) b. 31 December 1941, Ingatestone, Essex, English theatre and film actress.
Michel Piccoli (10.3.4) born 27 December 1925 in Paris, French actor.
LITERATURE
Douglas Baker (10.3.7) English author and lecturer, who has written over a hundred books on various esoteric subjects.
Michel Henry (10 January 1922–3 July 2002) French philosopher and novelist.
Joseph Rudyard Kipling (10.3.6) December 30, 1865 – January 18, 1936, English author and poet, born in India.
Haruki Murakami, born January 12, 1949, Japanese writer and translator.
Robert Silverberg (10.3.6 cjn Neptune) born January 15, 1935, prolific American author, best known for writing science fiction.
Wilbur Smith (born January 9, 1933 in Broken Hill, Northern Rhodesia, best-selling novelist.
Lotte von Strahl (10.3.10) born December 30, 1895 in Oldeburg, German psychic, an important figure in the field of parapsychology.
Vittorio Vettori (December 24, 1920 – 2004) Italian poet, writer and humanist,
MUSIC
Joan Baez (10.3.1) born January 9, 1941, American folk singer and songwriter.
Adam Jones (born January 15, 1965) Welsh-American musician and visual artist.
Jack Jones (10.3.8) born January 14, 1938, American jazz and pop singer.
Alannah Myles (born December 25, 1958, Toronto, Ontario) Canadian singer-songwriter,
Olivia Ruiz (10.3.8) 1 January 1980, French singer.
Giovanni Pierluigi da Palestrina (10.3.12 cjn Neptune, Sun cjn Pluto) 1525 – 2 February 1594, Italian composer of the Renaissance.
Glenn Yarbrough (10.3.8) January 12, 1930 – August 11, 2016, American folk singer.
Béatrice Uria-Monzon, born December 28, 1963, French singer, a mezzo-soprano.
POLITICS
Giulio Andreotti (10.3.10) 14 January 1919 – 6 May 2013, Italian politician of the centrist Christian Democracy party.
Zulfikar Ali Bhutto (10.3.8) January 5, 1928–April 4, 1979, Pakistani politician, President of Pakistan from 1971 to 1973.
Frederick II (26 December 1194 – 13 December 1250), one of the most powerful Holy Roman Emperors of the Middle Ages and head of the House of Hohenstaufen.
SCIENCE
Johannes Kepler (10.3.3 cjn Neptune) December 27, 1571 – November 15, 1630,German Lutheran mathematician, astronomer and astrologer, and a key figure in the 17th century astronomical revolution.
Louis Pasteur (10.3.7) December 27, 1822 – September 28, 1895, French chemist best known for his remarkable breakthroughs in microbiology.
SPIRITUALITY
Louis Pasteur (AS Libra); Jim Carrey; Johannes Kepler (AS Gemini); Michel Piccoli (AS Cancer); Joan Baez (AS Aries); Rowan Atkinson; Rudyard Kipling (AS Virgo); Julian Sands; Madame de Montespan; Sarah Miles (AS Virgo); Valentina Cortese (AS Cancer); Olivia Ruiz; Giulio Andreotti (AS Capricorn).
Provisional Territorial Units:
REGION D10-3: RUSSIA: Volga – East
D10-3: RUSSIA, VOLGA, PERM KRAI: Perm (1); Berezniki (2). BASHKIRIA: Ufa (3); Salavat; Sterlitamak (4); KIROV: Kirov (5). ORENBURG: Orenburg (6); Orsk (7); Novotroitsk (8). UDMURTIA: Izhevsk (9); Glazov (10). Rep. of Tatarstan: Kazan (11); Chistopol (12).
12½-15°Capricorn; Capricorn/Gemini; Taurus/Venus; 13°Capr.47': Zeta Sagittarii, Ascella.
Rusie Prasupaja. KORTEX, Kingdom Semiramac.
Binary Programme 1 – Pahekarubhe 1: 10.3, 301298
It is very windy as I climb the rock of Quiumakai. The wind moves through my hair and I can hear its whistle and touch.
"Oh sacred wind, I am most pleased to meet you. Now I say the sacred words of the Intent so that you can carry their essence and spread them through the planet and universe…"
The wind provides the potion and in exchange I offer a scale of Sun, Mercury and Saturn. I get on then wind and the wind carries me above.  From above I see all the places where the words of my Intent move, activating many situations. They activate trees, animals, stones and people.
"From here you can see how your dreams gradually take shape. A lot of wonderful things are taking place and you cannot be aware of them unless you get on the wind. What is taking place is the result of your constant work. Every time you say the words of the Intent new energy is given to the project. Go on in this way and acknowledge it openly. You are not alone in this process. Other Pioneers are operating and you are one of them. Operate and reveal your message. Retrieve your games as a child, They abound with truth. It is your birthright that of expressing your vision. Take everything to the Portal number 7"