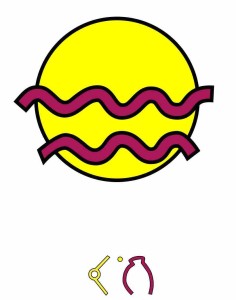 5/12 – Leo/Pisces
Binary Number: 60
Degrees: 17½-20° Leo
Aspect: quincunx
Moon Phase: full moon
Binary Spirit: Surahim Taepeh
Handorian Reference: State of Harte, Realm of Suraham
Provisional Territorial Unit: Northern Ireland, Isle of Man
In the Astroshamanic Binary System Sun in Leo (5) and Moon in Pisces (12) constitute Binary 5.12, or Binary number 60.
This is a blend of fixed fire and mutable water. The pattern Sun in Leo and Moon in Pisces mixes Leo's warmth, generosity and vitality with Pisces's imagination, romanticism, shape-shifting and emotional sensitivity.
Those who resonate with this combination have a profound empathy and alignment for whatever is around and within them. As a result, they possess a large amount of intuitive powers and the capacity to interpret many roles on the stage of life.
Triumph of Empathy
With 5.12 we reach the major flowering and blessing of Leo, which involves playing all the characters of the zodiac, enjoying them totally, while being able to detach from them, so as to move to other roles, discriminating between the Actor and the role.
This also implies establishing a different relationship with each one of the available characters, falling completely in love with them, while also managing to release them in order to shift to another part.
Leo is about getting attention and recognition, being visible in order to generously bestow one's gifts to the world. Here both our Core Multidimensional Identity (CMI) and the human arbitrary configuration (HAC), our human separated reality, are at work. The former identifies with the Actor, or energy, the latter with the role, or form.
The natal chart shows the types of roles our ego, the separated HAC dominated identity, more easily identifies with. These are usually those of the Sun and Moon's house and sign, with the other planetary positions playing the additional 10 parts in the background.
In this context my human arbitrary configuration, or ego, gets stuck in one of the 12 characters, while the binary counterpart and the remaining roles move into the shadow zone of my awareness and are played by the people I meet in my life.
Periodically there is a shift of roles, which we call here human arbitrary rotation (HAR), i.e. the shadow dancing of life or what ordinary human relationships are truly about. All human love relationships are multidimensionally capricious unless they contemplate a full operative conscious acknowledgment of the human arbitrary rotation.
This is the crucial operational dynamic of the  Astroshamanic Binary System. Being more specifically a matter belonging to the second half of the binaries (from Sector 7 onwards), it might be treated at a later stage.
All binaries terminating with 12 imply the achievement of a provisional state of wholeness, a blessing prior to moving back into the following binary based on 1. Thus, 5.12 and 5.1 represent the grand multidimensional solar accesses They encompass the boundary zone, the gap between the bona fide horny bit (the direct link with the core multidimensional identity) and the rerouting device (the diversion mechanism aimed at shifting perception from multi-dimensional awareness to HAC).
This solar gap is the multi-dimensional gateway, or Bhi Jinah, the most illegitimate and out of bound zone for all ordinary human consciousness.
With 5.12 I reach the apex of solar, or conscious, expression and align with the Core Multidimensional Identity (CMI). Here I gain the ability of playing all possible roles, expressing their maximum amount of power, receiving the highest recognition and experiencing the peak of ecstasy.
This is the triumph of the bona fide horny bit!
Then, as I shift from 5.12 to 5.1, I am confronted with the rerouting device, which sponsors the separation process and the identification with a specific fragmented part. The 12 parts are shattered and I am left with one. Yet here I can either remain with one fragment or unite all the 12 into one.
In the border zone between 12 and 1 dwells the mighty crack, the crucial point of the Sacred Circle, that place where separation achieves its supreme standards of performance. Trapped in the illusory perception of ordinary consciousness, energy reaches its apex, comes to an end and then starts again, back from Sector 1 and, unaware of its previous experiences, pretends to be born and set off for a new journey.
Please be aware of the shift of energy during the two days before and the moment when the Moon moves from Pisces into Aries. This is the pinnacle of the human arbitrary rotation. Such a rotation can potentially take place in every moment, yet being aware of it in the transition between 5.12 and 5.1 allows you to be more vigilant at all other times.
Notice in particular what your apex of joy and pleasure was and what experiences and promises it held. This is the blessing, the part aligned with CMI, the bona fide horny bit.
Please find a tangible way to fix it in your awareness. For example, you can write or draw something about it. Also be specifically aware of the lowest point, the unpleasant bit, and the grievances that come to your attention. Here too make sure that you acknowledge this substantially through writing or drawing. This recognition allows you to shed light on the dynamics of the rerouting device.
The first step of healing involves simply being aware of the multidimensional gateway encompassing both blessings and grievances. This is tantamount to the first and second stages of the Basic Ritual of the Sacred Cone, which are the two leading and performing stars.
The purpose is to experience two apparently different energies, to give them free space to express and narrate their stories. At this point, they can simply be held like two small innocent and scared children, receiving attention, support and tenderness.
This is the primary step of transformation. It is primary because in this initial stage nothing appears to transform. On the contrary, far from being binned, grievances are taken care of. Consequently, from the perspective of the human arbitrary configuration, conflicts seem to expand beyond measure. This is why only authentic healers are able to acknowledge the primary step. From the perspective of human limited perception it appears as a deterioration or failure, which is epitomized by the long series of steps backward from 12 to 1.
Hence, this causes a major sense of frustration and disempowerment. I was once in 12 and here I am back in 1, having to start everything again. For example, last night you experienced an immaculate sense of unity with your partner, a deep feeling of harmony physically, emotionally, mentally and spiritually. In the morning all these blessings annihilate and all you perceive is frustration, anger, betrayal, fear and other unbearable emotions. Here, you are helpless. Nothing appears to work. And it has happened also other times. Times you believed were forever gone. They are not! They are here again! This is not a defeat. It is indeed the foundation of triumph!
It is where the chemical process of transformation is potentially put into decisive motion. Here you need to be aware that both 12 and 1 are still there. Holding them equally in your awareness allows the emergence of the third stage, which here involves the connection of your personal story to the collective epic.
This process is devoid of any intellectualisation. It is not based on the rational understanding that your personal biography reflects the story of mankind. Although this notion can also help, what you are referring to here is a multidimensional experience incorporating physical, emotional, mental and spiritual bodies.
It entails the capacity of embracing past, present and future into one harmonious whole. It is the vivid sense of including all possible roles.
It is 5.12, the theatrical triumph of empathy!
Astroshamanic Seal: a Sun within the ocean radiates light and heat, directing the force of Water to the Intent connected with the Function. Sublime joy and ecstasy is generated by this binary. Here dreams becomes immediate reality and are cloaked by a will of Fire.
ARTS & LITERATURE
Percy Bysshe Shelley (5.12.2, Uranus Power, Saturn Instrument) English poet (1792-1822).  Ozymandias, Ode to the West Wind, To a Skylark, Music, When Soft Voices Die, The Cloud, and The Masque of Anarchy, Queen Mab, Alastor, The Revolt of Islam, Adonaïs, The Triumph of Life. The Cenci (1819) and Prometheus Unbound (1820).
V. S. Naipaul, (5.12) West Indian writer, Nobel Laureate, born 1932
P. D. James, (5.12, Neptune Power) English novelist, born 1920
Louis Pauwels, 5.12.7 (2 August 1920 – 28 January 1997) French journalist and writer.
Paul Claudel, 5.12.5 (6 August 1868 – 23 February 1955) French poet, dramatist and diplomat,
CINEMA & MEDIA

Wes Craven, (5.12.9, Pluto Flower) American director of many horror films, including the famed A Nightmare on Elm Street and Wes Craven's New Nightmare, the Scream films, alongside The Last House on the Left, The Hills Have Eyes, The Serpent and the Rainbow, The People Under the Stairs, Vampire in Brooklyn, Red Eye, and My Soul to Take, born 1939
Ever Carradine, (5.12.5) American actress, born 1974
Rodrigo Santoro, (5.12) Brazilian actor, born 1975
Carrie-Anne Moss, (5.12) Canadian actress. The Matrix trilogy, Memento, Unthinkable, and Chocolat, born 1967
James Cameron, (5.12, Pluto Power) Canadian film director. Aliens (1986), The Abyss (1989), Terminator 2: Judgment Day (1991), True Lies (1994), Titanic (1997), and Dark Angel, born 1954
Robert Mitchum, (5.12.5, Saturn-Neptune Power) American actor (1917-1997)
Barbara De Rossi, 5.12.7 (9 August 1960) Italian actress who has combined a career in international cinema with longstanding popularity in Italian television.
Lambert Wilson, 5.12.9 (3 August 1958) French actor, singer and activist
Robert De Niro, (5.12.4) American actor, born 1943
Sandro Paternostro, 5.12.4 (9 August 1922 – 23 July 2000) Italian journalist and television presenter.
MUSIC
Antonio Salieri, (5.12) Italian composer (1750-1825)
Jimmy Webb, (5.12.6, Uranus Flower), American musician and composer, born 1946
Eric Carmen, (5.12.6, Pluto Power, Saturn Instrument) American singer and guitarist (Raspberries), born 1949
Richard William Wright (28 July 1943 – 15 September 2008) English musician, composer, singer, and songwriter. He was a founder member, keyboardist, and vocalist of the progressive rock band Pink Floyd.
Damien Saez, (5.12) French musician, songwriter, and author, born 1977
Robert Plant, (5.12.9, Saturn Power) British Musician (Led Zeppelin), born 1948
James Morrison, (5.12) British singer, born 1984
Eliza Carthy, (5.12) English singer and fiddler (born 23 August 1975)
Mata Hari, 5.12.8 (7 August 1876 – 15 October 1917) Dutch exotic dancer and courtesan who was convicted of being a spy for Germany during World War.
Provisional Territorial Unit:
REGION D5-12:
Northern Ireland, Isle of Man
D5-12-1 Belfast City, Castlereagh
D5-12-2 Ards, Down, North Down, Lisburn
D5-12-3 Banbridge, Newry and Mourne
D5-12-4 Armagh, Craigavon
D5-12-5 Cookstown, Dungannon and South Tyrone, Magherafeld
D5-12-6 Omagh, Strabane
D5-12-7 Coleraine, Derry City, Limavady
D5-12-8 Fermanagh
D5-12-9 Ballymena, Ballymoney, Moyle
D5-12-10 Carrickfergus, Larne
D5-12-11 Antrim, Newtownabbey
D5-12-12 ISLE OF MAN, IM: Douglas
Handorian States Reference:
State of Harte, Realm of Suraham – 5.12
The Realm of Suraham lies in the western area of the State and is particularly known for the presence of the Grand Hartem Portal with the Handorian States Multidimensional Harbour and its huge docks and waterfront, which is indeed the most spectacular feature of the State of Harte. The Grand Hartem Portal consists of three parts: Epic Sartem (5.12.11), Rippleham (5.12.10), Rattle Pierham (5.12.12).
The capital, Epic Sartem, was the original capital of Harte and Handorian States System. It constitutes the most ancient urban area in HSS. The original pier culminated at the Temple of Enthusiasm, and was then further extended until it reached its current gigantic size.
Suraham also features the mysterious enclave of Surapis, located within Reckless Dream (5.12.2). This is a rustic and secluded area, an idyllic paradise zone inhabited by Bhi Jinah.
The region of Earl Belsafiz (5.12.1) constitutes the extreme south-west area of the State of Harte, bordering the Confederation of Tudorian Principalities. This is one of the most celebrated and gentle gateways in HSS.
The region of Emblem (5.12.6) hosts the Sound Temple of Rectum.
The capital of Emblem is Eardrum, a city where everything exists on three levels:
"Each road is also a tramline and a pavement at the same time. All modes of transport exist simultaneously in the same space, without disturbing any of the others. This is also so for the buildings – three distinctly different types existing in the same space. All inhabitants, including visitors, also exist as three beings occupying the same bodily space – a man, a woman and a child." (DM)
The core of the Realm of Suraham is represented by the city of Elim Elimin Elim, in the region of Elim (5.12.4), where also the Temple of the Excretory System is located.
The region of Emporium (5.12.8) has the largest market centre of the State at Emporium Suraham. This is a crucial market area for what is astroshamanically defined as the bona fide horny bit.
5-12-1 EARL BELSAFIZ, R.Sutaka
5-12-2 RECKLESS DREAM + SURAPIS, R.Sutara
5-12-3 ELM (Rim), R.Sutama, Right Cardiac Cavity
5-12-4 ELIM (Elim Elimin Elim), R.Sutaqu, Excretory System
5-12-5 ELOIM, R.Sutasu
5-12-6 EMBLEM (Eardrum), R.Sutaks, Rectum
5-12-7 EPIGRAM (Requiem), R.Sutaat
5-12-8 EMPORIUM (E. Surahat), R.Sutaha
5-12-9 ENCOMIUM (Rainstorm), R.Sutani, Ventricular Septum
5-12-10 RIPPLEHAM, R.Sutaur, Enthusiasm
5-12-11 REGALANTRIM + EPIC SARTEM, R.Sutaur
5-12-12 RATTLE PIERHAM, R.Sutata